Are you looking for an easy way to remember birthdays, anniversaries and other important dates? If so, printable worksheets can help.
If you're like me, you probably have a lot of dates to remember. Dates for birthdays, anniversaries, etc. all float through your head. Or sometimes they don't. As a result, you might miss a significant occasion and have to apologize for doing so.
We've got the answer to this problem with another free printable: The Dates to Remember Printable. This free printable will help you monitor key dates easily. That way, you'll never forget them again.
What to Use the Dates to Remember Printable for
You can use this printable to track any dates you need to remember. I use it to keep up with:
birthdays
wedding anniversaries
other important occasions
important event dates
Storing your free Dates to Remember and other printables is important too. Here's how I store mine.
Using a Home Management Binder to Store Your Printable
A 3-ring binder I call my Home Management Binder stores all my printables. I love my Home Management Binder!
I use it to store my Monthly Budget printables, Meal Planning printables and more. Using a binder is a great way to keep all the essential information you need in one organized place.
Many of the printables out there are made beautifully. But I prefer to combine attractive printables with my frugal nature.
Therefore our freebies don't use a lot of ink. Many of them are designed in black and white so you can save money on colored ink, which tends to be more expensive.
Also, the printables that are in color can be switched to print in black and white on your printer.
How to Use the Dates to Remember Printable
Here's how the Dates to Remember printable works. For each month, there are several lines so you can track all the important dates you want to remember.
Use the box on the left to fill in the day of the birthday, anniversary or another important event for the month.
Then use the box on the right to fill in the description for the important date.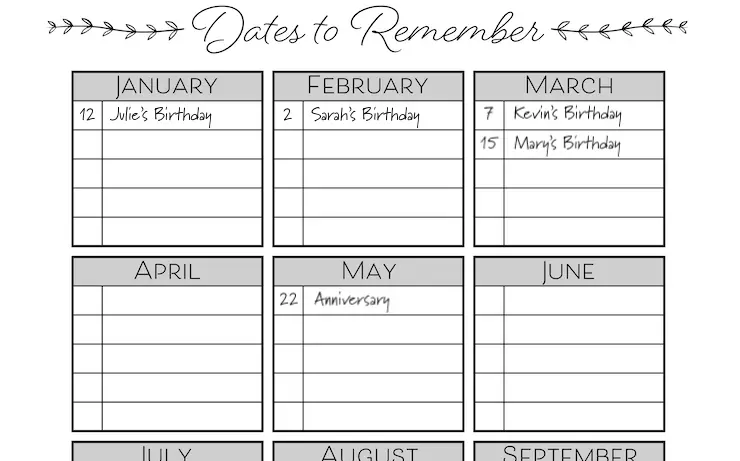 Also, if you are using a binder, there is room to 3-hole punch the sheet. And you can use a page protector sleeve since it will be more of a reference page in your binder.
You can also print the sheet and post to your bulletin board or hang on the fridge as a reminder. Click here to download the printable. It's really that easy!
Next, I've included links to some of the other free printables we have. I find that using them makes life more organized.
Other Free Printables from Cents and Order
We've also got several other free printables we give away for Cents and Order readers. Here are links to some of the most popular free worksheets we offer.
Our free Weekly Meal Planning Printable (with grocery list included) will help you have a menu plan in place each week. This way you're not wasting money on unplanned trips to restaurant drive-thrus.
Our Monthly Budget Printable helps you create a structured budget to manage your finances better. Plus, having an organized monthly budget will help you save money.
Our Budget Binder Printable is a complete set of budget-related printables. This set will help you keep track of every aspect of your finances.
We also use freezer meals to help save time and money. Our Freezer Inventory Printable will help you keep track of the meals you store in your freezer. This way you'll know when you need to use the meals by. Besides, you'll know when it's time to stock up more freezer meals.
Our free Christmas Gift Planner Printable enables you to you have a solid plan in place for holiday gift giving. It helps you to organize the people on your gift giving list and ideas for what they might want or need.
Our Printable Bill Payment Checklist helps you have a prepared sheet to keep track of all of your bills. This way you can avoid late payments and the late fees that go with them.
The 52-Week Savings Challenge Printable is one of my favorite printables. This printable offers you an easy way to increase your savings account balance exponentially!
All of these free printables can help you be more organized, saving you money and time. And storing them all in a 3-ring binder can aid you even more by keeping your printables orderly.
What do you think about the Dates to Remember printable? Do you have any suggestions on how we can improve it? Feel free to leave a comment in the comments section on our Facebook page.