It's easy to get your finances in order with this Budget Binder! Includes 20+ pages of financial printables for 2018 including budget worksheets, bill payment checklist, savings trackers, debt tracking sheets, and more!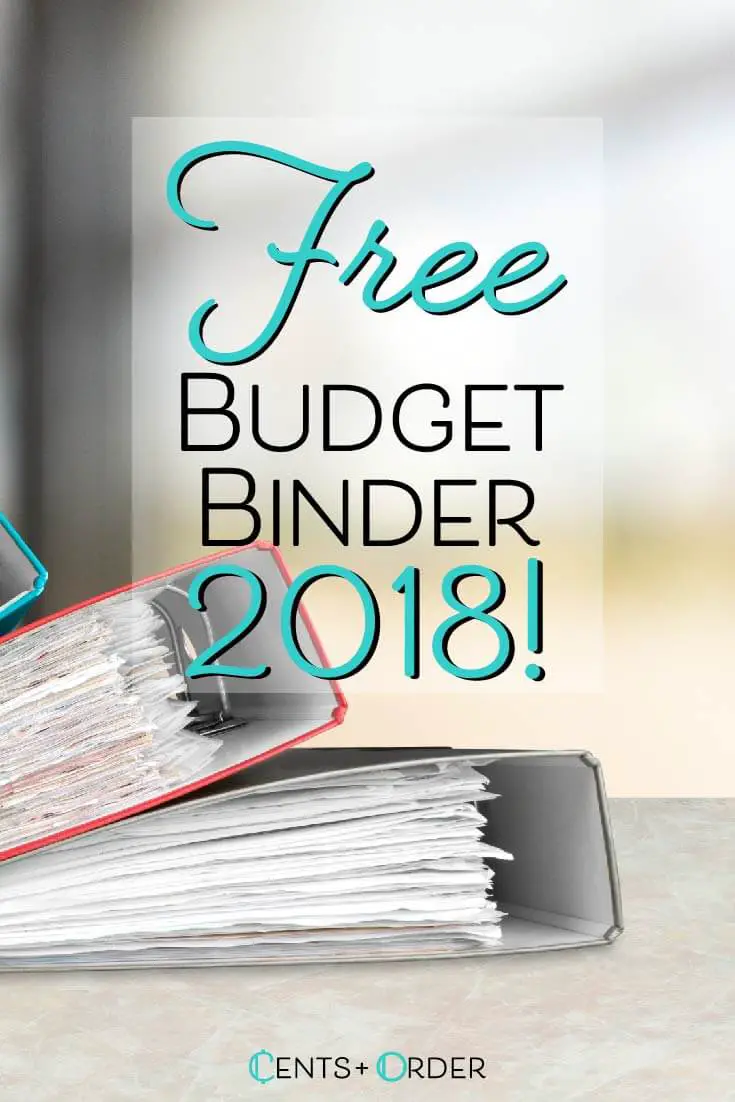 Note: This post includes affiliate links.
How to make your budget binder:
Budget Binders are a great way to get your finances organized. Use the included worksheets to track your budget, grow your savings, and pay off your debt.
Supplies you may want to use:
Don't want to use colored ink? No problem! Just set your printer to print in black and white if you want to save money on ink!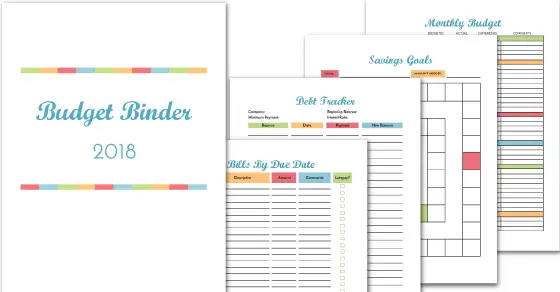 20+ Printables for your Finance Binder
Everything you need to manage your money better! Customize your Budget Binder with the printables that work for your personal financial situation.
This free download includes the following printables:
Cover Page
Bill Payment Checklist
Bills by Due Date
Checkbook Register
Monthly Budget
Blank Budget Template
Expense Tracker
Irregular Expense Tracker
Blank Savings Goal Tracker
$1000 Savings Tracker
Debt Payments Tracker
Debt Payoff Progress Tracker
Matching 2018 Monthly Calendar

Bills By Due Date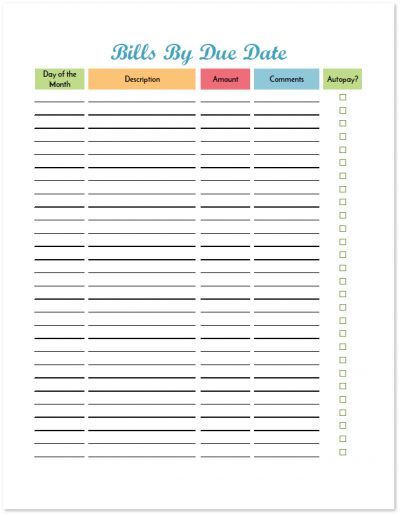 This sheet is a great reference for your budget binder.
You'll list all your bills and make sure to put them in due date order. Then you always have a quick reference to peek at and see what bills are coming up next.
Don't forget to include quarterly, semi-annual, and annual bills. (Such as sewer, trash, insurance premiums, and subscriptions)
I like to use the comments section to note if a bill is a fixed or variable amount. Also, if you have a bill that is quarterly (or less frequent), you can use this area to make note what months have payments due.
For bills that vary, you can put an estimate or average amount.
Bill Payment Checklist Printable

The Bill Payment Checklist is my favorite printable of all! It lists all of your bills and is a great way to remember what needs to be paid. It will provide you a snapshot of what bills you have upcoming and a way to track your payments.
Even if you are great about paying the bills when they come in, what happens if you don't get the bill? Using a Bill Payment Checklist will remind of you of all your bills-even if the bill gets lost.
Don't forget to include bills that are set up to pay automatically.
It's helpful to list bills in due date order on your bill pay tracker so you can see what's due next.
You can include bills that are quarterly or less and just put an X through the months where no payment is required.
I like to include everything on here, even if there isn't always a monthly bill. For example, I use a Kohl's card strictly to take advantage of discounts and pay in full when the bill comes. Even though most months do not have a bill, I include it on my checklist so I don't miss paying if I use the card in a given month.
Checkbook Register Printable

Just like the ones that come with your checkbook, just prettier!
Monthly Budget Template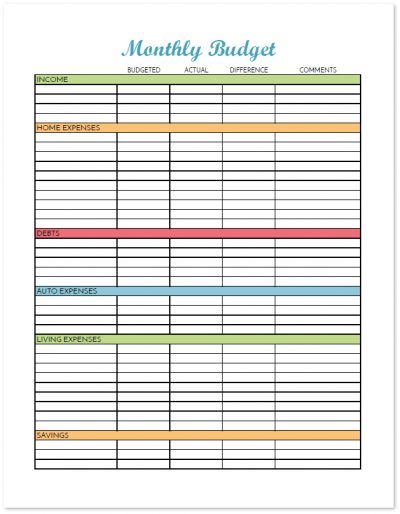 Create your monthly budget and then use this budget template to track how you did compared to your budget.
RELATED: 6 BUDGETING METHODS EXPLAINED-HOW TO CHOOSE THE BEST SYSTEM FOR YOU
Here's some ideas on what you'll want to include for each category. This isn't an all-inclusive list, but hopefully gives you a starting point. Just because I've listed an expense, doesn't mean you need to include it in your budget if it doesn't apply to your family.
Income:
Paycheck
Bonus
Child support
Alimony
Social Security/retirement income
Self-employment income
Savings:
Emergency Fund
Retirement
College
Vacation
Other
Home Expenses:
Mortgage
Rent
Insurance
Taxes
Repairs/Maintenance
Electric
Gas
Water
Sewer
Trash
Cable/Satelite
Netflix/Hulu/etc
Internet
Phone
Cell Phone
Alarm/Security
Debts:
Student Loans
Credit Cards
Personal Loans
Auto Expenses:
Car payment
Insurance
Fuel
Repairs/maintenance
Tolls
Living Expenses:
Medical premiums
Charity
Clothing
Childcare
Haircuts/Beauty
Entertainment
Gifts
Pet
Gym
Medical co-pays
Medications

Blank Budget Worksheet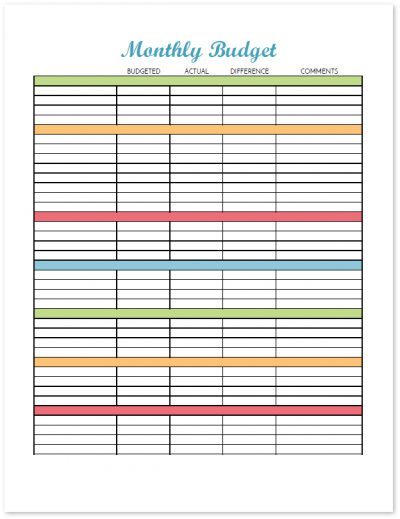 Create your monthly budget and then use this budget template to track how you did compared to your budget.
This one is blank so you can decide how to categorize your expenses.
Expense Tracker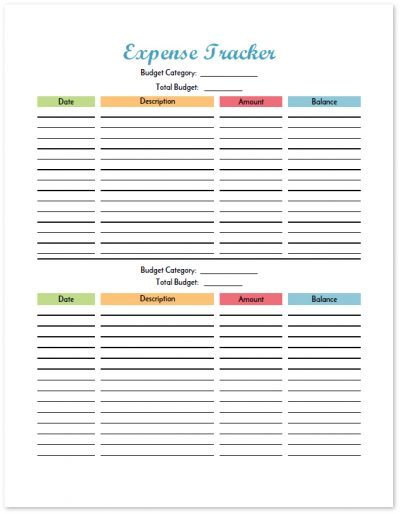 The expense tracker is a great way to monitor a particular category of your budget. You can use one for each area of your budget or just for those trouble spots.
I use these to track categories that have several purchases throughout the month (and are easier to get into budget trouble if not monitored closely). Categories like food, dining out/entertainment, and auto fuel are good examples of categories to watch.
I don't use them for budget categories that would only have one item, such as electricity. However, if you budget all of your utilities as one big category, then this tracker would keep you on target.
Irregular Expenses Worksheet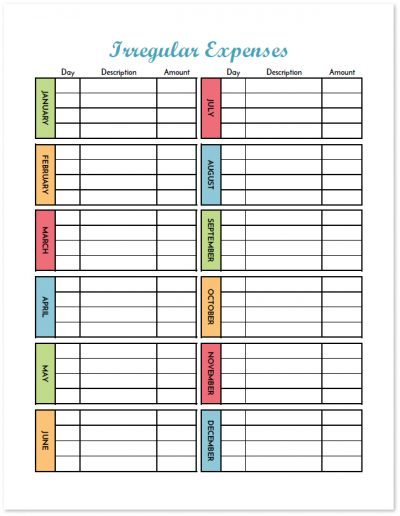 One-off expenses can really throw off your budget. Be prepared and use this sheet to remind you of those irregular expenses that you need to work into your monthly budget.
Some common items you might want to include:
Car registration/inspection
Birthdays/anniversaries (gifts and/or party costs
Kid's activities (scouts, sports, etc)

Blank Savings Goal Tracker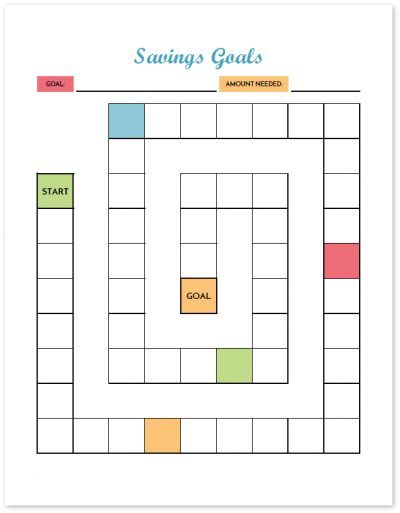 This is a fun printable to track your progress on a particular savings goal.
Whatever your goal amount is, divide it by 50 to get the increments for your boxes. For example, if my goal was $500, my boxes would be increments of $10.
I've left the boxes blank so you can fill in the dollar amounts that correspond to your goal.
You can visually track your progress by shading boxes as your savings reaches the dollar amounts. The colored boxes let you know when you've hit 20%, 40%, 60%, and 80% of your goal.
$1000 Savings Tracking Sheet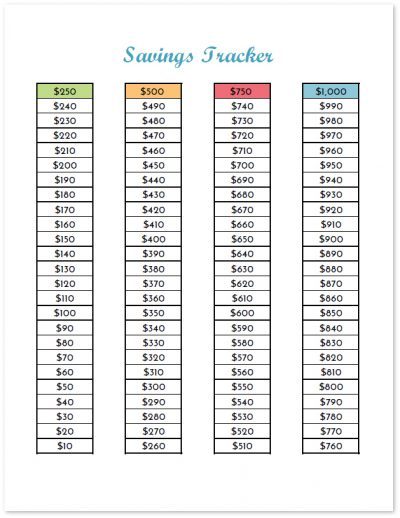 Working on building your emergency fund?
Keep track of your progress with this visual tracker. Shade the boxes for each $10 you get saved up.
RELATED: 9 CREATIVE SECRETS TO SURVIVE WHEN YOU ARE BROKE
Debt Payments Tracking Printable

Want to be able to monitor your progress on your debts? Print one of these sheets out for each debt.
Each month, keep track of your payments and the new balance.
Debt Payoff Progress Tracker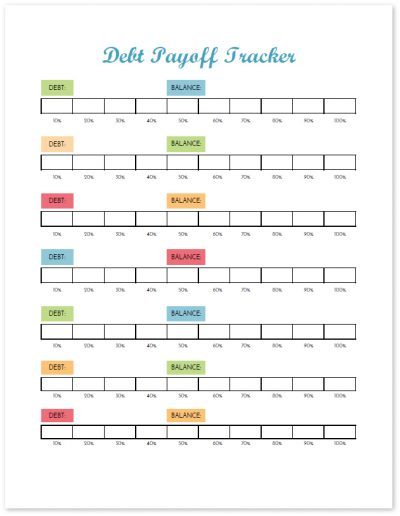 Like a visual to track your debt payoff progress?
Fill in the boxes with the increments that would match up with the percentages. You'll shade the boxes as you pay off that much of your debt.
RELATED: FIVE SIMPLE SECRETS TO PAY OFF DEBT FAST
2018 Blank Calendar Pages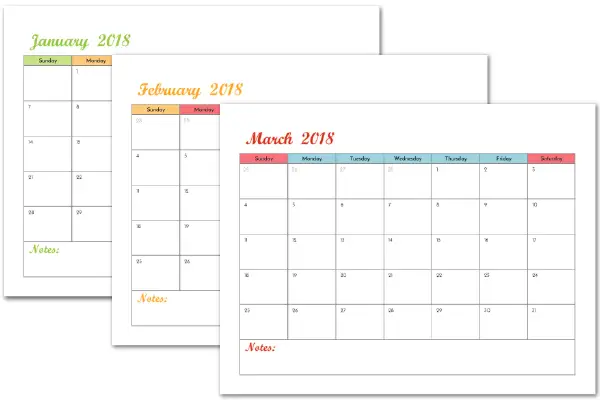 The Budget Binder wouldn't be complete without coordinating calendar pages.
You may find it helpful to track pay days and bill due dates on the calendar pages.