Do you ever have trouble figuring out how to organize a small entry closet? If you're like me, the answer is a resounding YES!
The front closet can quickly overflow with coats, shoes and other catch-all stuff. Add in season changes and winter accessories like hats and gloves, and your closet is in even more trouble.
When you have a smaller coat closet, it is even harder to maintain any sort of organization. Often times, it's just a matter of too many things in a small space.
However, even if you need to keep your small space stuffed, there are ways you can make the space neat and organized. These tips will help you find extra space in your closet so you can have an organized entry closet.
Let's start by talking about the types of organizations you can have in entryway closets.
Organization Problems in the Entry Closet
There are a variety of problems that can happen when you've got an entryway closet – especially a smaller one. Here are just a few issues you may have to deal with:
Not enough room for shoes
Too many coats to fit on the rack
Winter accessories not easily accessible
As you can see in this picture of my closet, we clearly did not have enough room in the closet. We need to fit everything for five people in that space, but the need outweighed the space. It was a pain trying to hang coats up when we got home; there was no room to squeeze them all in. The little kids' coats would end up on the floor instead.
The other major problem was there was nowhere near enough room to fit everyone's shoes. The floor space had room for all of about two pairs per person. Between dress shoes, boots, and sneakers, we needed enough room for several pairs per person.
Every time we organized those shoes, they quickly turned back into a giant pile of shoes. We'd be digging through the pile to find the matching shoes every morning. I'm not sure how they always managed to end up in the bottom of the pile!
Another issue was our accessories. Our winter accessories were combined in one big bin up on the shelf. Again, we would always end up digging through the bin to find matching gloves or a particular hat. In addition, the bin was too high for anyone to reach other than the adults. This meant more work for me when the kids needed something.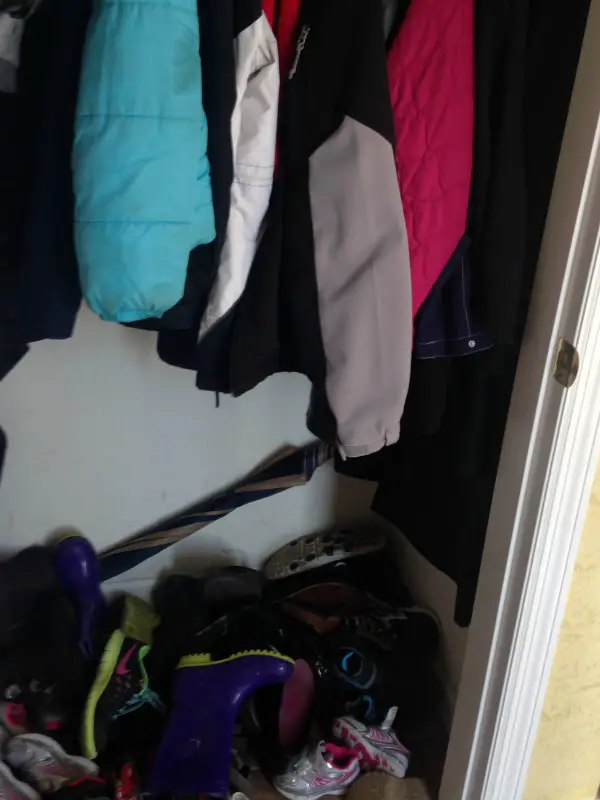 Before:

Here's what we did to make the space more usable and organized for everyone.
Start by Defining the Space
A pinnacle of good organization is to start by defining the space you're working to organize. What is its best suited purpose? What makes the most sense to store there? In the case of the entryway closet, you likely use it for things needed for going outside.
Coats, shoes, hats, gloves, scarves, umbrellas, etc. Or maybe you have other ideas about what should go in your entry closet. The goal is to define the space in the way that best suits you and your household.
What you store in your entry closet might not make any sense to others, but it only has to work for you. Decide what belongs in that space and what is needed there in order to make your home and life more organized in general.
Once you've defined the space in the way that best suits you, you can start taking concrete organization steps. Here are some steps that worked well for us and our space.
Declutter Where Possible
Before you start with the actual organization, take some time to declutter. Throw away torn coats, gloves, hats and scarves. Discard old, worn or broken shoes. The same goes for items that don't fit any longer. If they're in good shape, donate them. If not, toss them out.
If you're having trouble deciding what to keep, use a 6 or 12 month rule: if you haven't used the item in the last 6 to 12 months, get rid of it. Or if it can be used later for other younger kids, store it away until it's the right size.
Take Advantage of Wall Space
The first step we made in organizing the closet was to take advantage of wall space. The kids' little coats were taking up valuable hanging space on the hanger bar. We solved this problem by purchasing some of the 3M Command Hooks to use to hang the little coats. We figured out where the regular coats end lengthwise, and put the hooks on the wall below.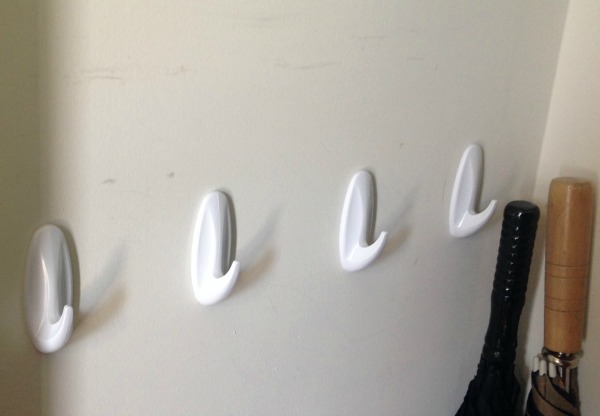 The hooks are at the right height that my kids can get their own coats in the morning and hang them back up at night. Four less coats hanging made some extra room for the rest of the adult coats.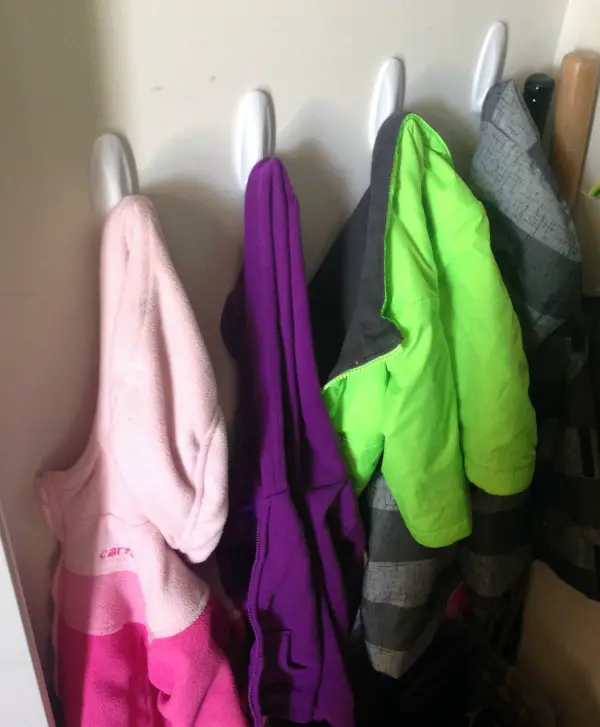 You can also use wall space to house hats, scarves and more. Use command strips to create hanging places, or post on-the-wall bins for storing lighter weight accessories. Another idea would be to use smaller towel racks or curtain rods, along with shower curtain rings, to hang scarves, etc.
Next, we tackled the shoe problem. Here's what we did.
Organize the Shoes
The disorganized shoe pile was my biggest pet peeve of this space. As I mentioned before, no matter how much I'd neaten them up, they'd end up in a pile again as soon as someone felt the need to dig. Even when I had everything else organized, I struggled to find a solution for this problem.
Then I found these storage bins at my local Target store. I bought three of the big ones – one for each adult and one for my oldest daughter. They also had coordinating smaller bins for the two younger kids.
Keeping each person's shoes in their own individual bin has worked wonders! We can now fit 4-5 pairs in each bin. And since everyone has their own bin, they know where to go to find their shoes. No more making a mess out of all of the shoes in order to find their own.
If it doesn't fit in the bin, then we put the shoes in our bedroom closets. We only keep the few pairs of shoes that we each wear regularly in the bin which has also helped keep the shoe mess away. Shoes that we only wear for special occasions or don't wear very often go in the bedroom closet. It's not an inconvenience because we only have to get them out occasionally.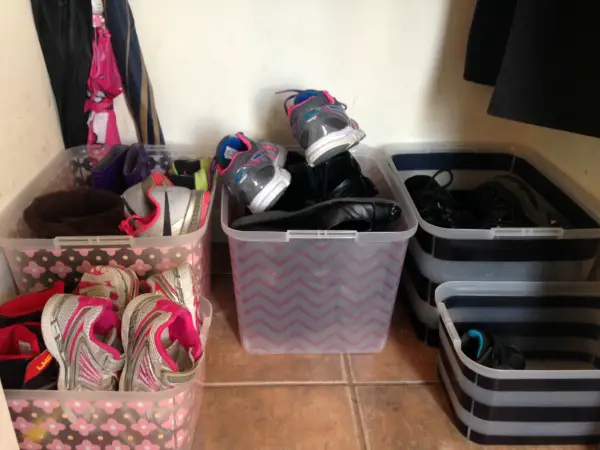 After:

Another option for the shoe problem would be to use portable shelving and place it on the closet floor under the coats. You should be able to get two to three rows of shoes stored this way. If the shelving is high enough, you can place bins under the shelving for addition, tuck-away storage.
Use an Over-the-Door Shoe Holder for Accessories
Our other problem area was accessories such as hats, scarves, gloves, etc. Pinterest sparked an idea to use a shoe holder for accessories. I picked up one like this: Over-the-Door Shoe Organizer at my local Target.
I put everyone's hats, scarves, gloves, and earmuffs in the shoe holder pockets. We put mine and hub's items in the upper pockets and put the kids' items in the lower pockets. This way the kids could easily reach them (and put them away), saving me time and helping them be more independent.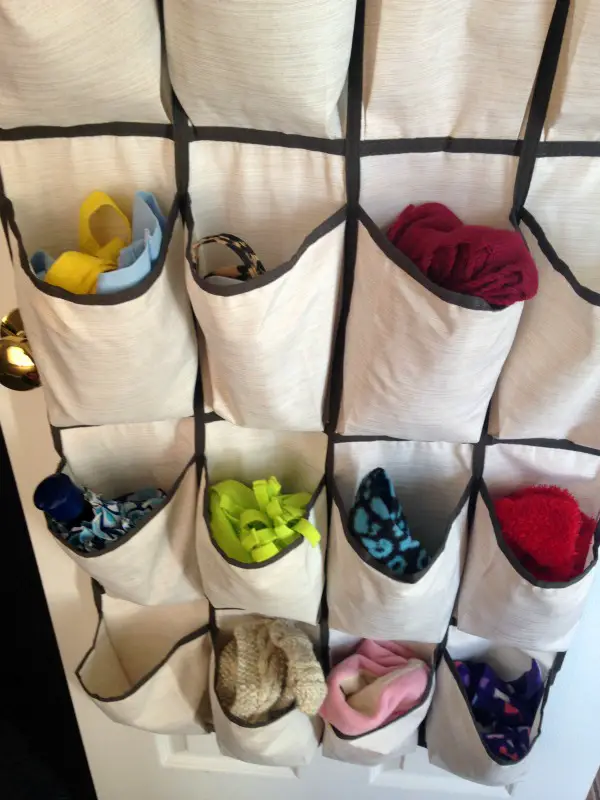 In the summertime, we put the winter accessories away and use the pockets for flip flops, sun hats, rain ponchos and small umbrellas (after they have dried).

And then there's one additional organization suggestion I have: utilizing the space above the coats.
Use High Spaces for Rarely Used Items
As I talked about, those high spaces in closets aren't great for storing items that the kids use or that are used frequently. Now I use the high spaces above the coats to store items I don't use often. Some examples are:
dressier accessories that only come out on special occasions
umbrellas (except the kids' umbrellas – I keep those down with the coats)
extra blankets for living/family room use
And other items that you like to keep close to living areas but still out of the way.
Remove Items that Don't Belong
Another tip for closet organization is to remove items that don't belong. When organizing, it helps to put everything closest to where you use it the most. For instance, if you pay your bills in the kitchen, find a place to store them in the kitchen.
Don't store your bill paying supplies in the office and then have to drag them into the kitchen when you pay the bills. Likewise, if there are items in your entry closet that would be better accessible somewhere else in the house, move them. Save your entry closet space for items that you use going out and coming in. Or for items that are used in the room closest to where the closet is located.
Summary
Entryway closets can be a huge organization problem, largely since they're a catch-all for all who walk in the door. Sometimes you have to be creative to find space when it may seem like you have none. Hopefully some of the tips above will help you make your entryway closet a great space.
Remember that organization as a whole should be based on what works best for you and your household. Use tips from organization experts, but make your final plan your own.
Have you ever had issues with organization in your entryway or other closet? If so, how did you solve them? Share your tips in the comments section below.