Having trouble figuring out how to organize a small entry closet? The front closet can quickly overflow with coats, shoes, and winter accessories like hats and gloves. When you have a small coat closet, it is even harder to maintain any sort of organization when you have too many things in a small space.
These tips will help you find extra space in your closet so you can have an organized entry closet.
Note: This post contains affiliate links.
Organization problems in the entry closet
Not enough room for shoes
Too many coats to fit on the rack
Winter accessories not easily accessible
We clearly did not have enough room in the closet to fit everything for five people in that space. It was a pain trying to hang coats up when we got home; there was no room to squeeze them all in. The little kids' coats would end up on the floor instead.
The other major problem was there was nowhere near enough room to fit everyone's shoes. The floor space had room for all of about two pairs per person. Between dress shoes, boots, and sneakers, we needed enough room for several pairs per person.
Every time we organized those shoes, they quickly turned back into a giant pile of shoes. We'd be digging through the pile to find the matching shoes every morning. I'm not sure how they always managed to end up in the bottom of the pile!
Our winter accessories were combined in one big bin up on the shelf. Again, we would always end up digging through the bin to find matching gloves or a particular hat. The bin was too high for anyone to reach other than the adults.
Before: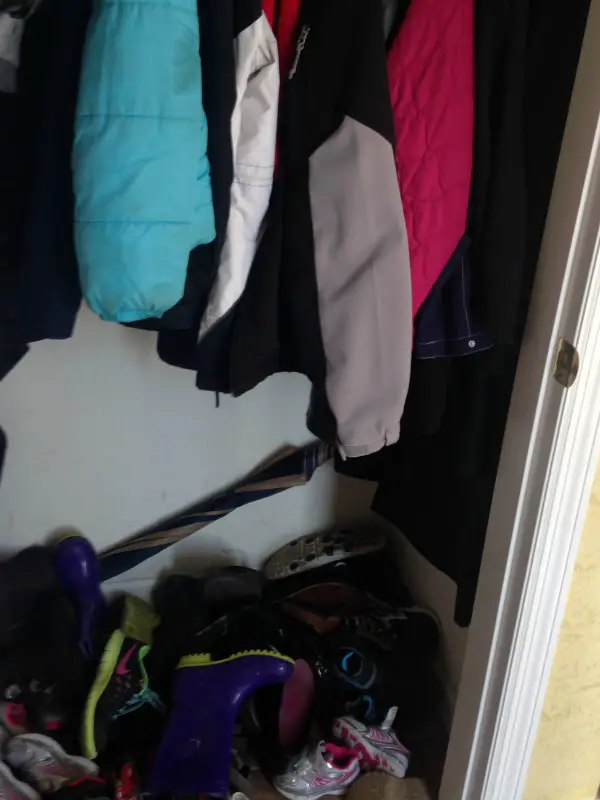 Take advantage of wall space
The little coats were taking up valuable hanging space. We bought some of the 3M Command Hooks
to use to hang the little coats. We figured out where the regular coats end lengthwise, and put the hooks on the wall below.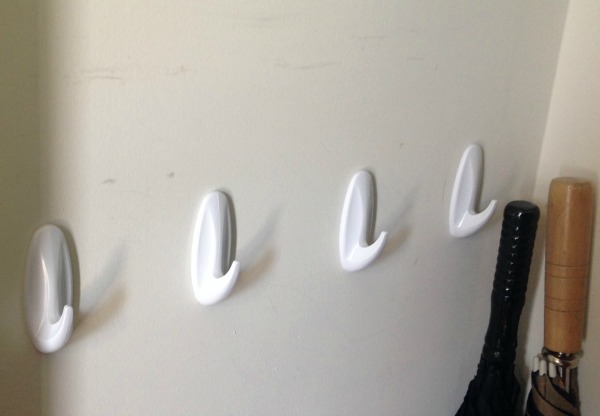 The hooks are at the right height that my kids can get their own coats in the morning and hang them back up at night. Four less coats hanging made some extra room for the rest of the coats.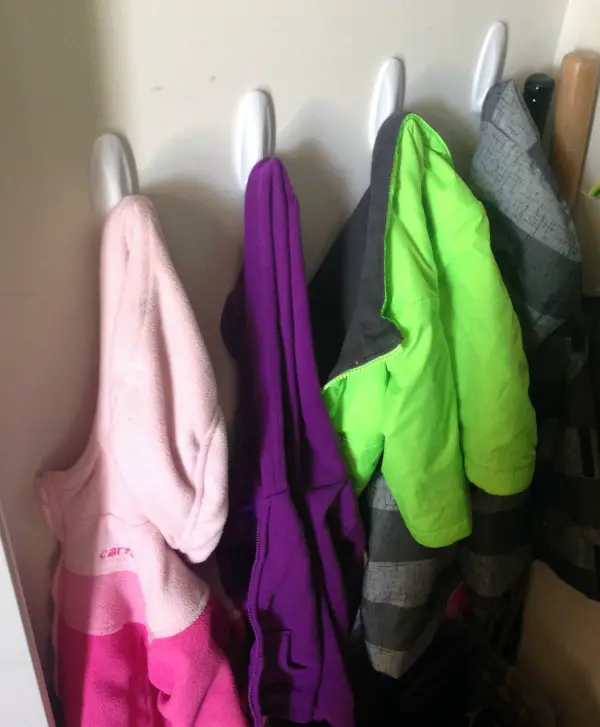 Organize the shoes
The shoes were my biggest pet peeve of this space. Even when I had everything else organized, I struggled to find a solution.
I found these storage bins at my local Target. I bought three of the big ones-one for each adult and one for my oldest daughter. They also had coordinating smaller bins for the two younger kids.
Keeping each person's shoes in their own individual bin has worked wonders! We can now fit 4-5 pairs in each bin.
If it doesn't fit in the bin, then we put the shoes in our bedroom closets. We only keep the few pairs of shoes that we each wear regularly in the bin which has also helped keep the shoe mess away.
After: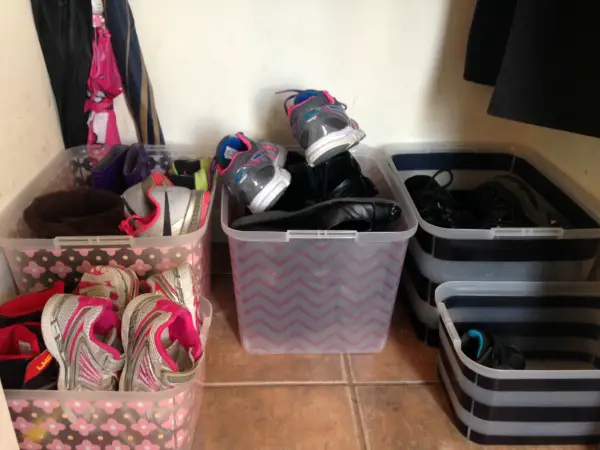 Use an over the door shoe holder for accessories
Pinterest sparked the idea to use a shoe holder for accessories. I picked up one like this: Over-the-Door Shoe Organizer
at my local Target.
In went everyone's hats, scarves, gloves, and earmuffs. We put mine and hub's items in the upper pockets and put the kids' items in the lower pockets so they could easily reach them (and put them away).
In the summertime, we put the winter accessories away and use the pockets for flip flops, sun hats, rain ponchos and small umbrellas (after they have dried).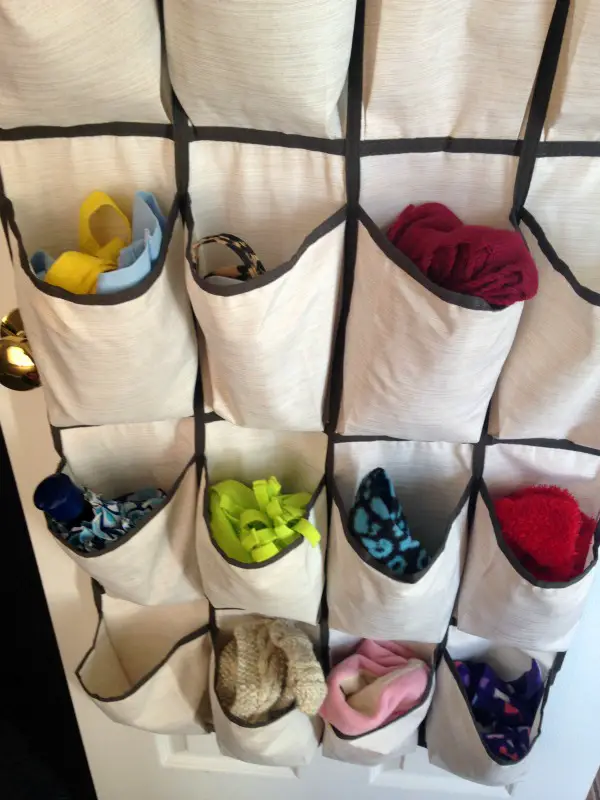 Sometimes you have to be creative to find space when it may seem like you have none. I am loving the new closet organization and hopefully some of these tips will help you get your closet organized too!