Do you need to get a cheap massage near you but don't know where to get started?
Let's get real, massages are great. They're a way to relax, indulge in some self-care, and give your body a break.
For most people, regular massages can be a great way to relax after a stressful week and keep your body aligned.
The only problem is that a lot of times they are pretty expensive and hard to schedule.
Depending on where you go, a 45 to 60-minute massage can cost you $100 or more each time!
Unless you find an awesome side hustle, this isn't going to work for everyone reading this post.
That's why I found as many places as I can to help you find deals, save money, and still make sure you're getting in regular massages.
11 Places to Get a Cheap Massage Near You
The next time your muscles are sore and you need a break from the real world, make sure you check out the 11 places to get a cheap massage near you.
1. Look at Discount Sites
If you type into Google "cheap massage near me" you'll more than likely see the first few results being Groupon certificates.
Yes, remember Groupon from the 2010 era?
I remember working at Yelp at the time Groupon was growing in popularity and daily deals were everywhere.
But like so many internet companies, the buzz wore off, companies grew tired of low paying customers, and the business model died down.
But, as there aren't many national chain massage parlors that are cheap, big deal sites can help you find a cheap massage quickly.
Groupon or LivingSocial
Back in the heyday of Groupon, I bought so much on there it was almost embarrassing.
But when you're in college or trying to live cheap and save money, discount sites are still a great resource to help you save money.
While the Groupon and LivingSocial hype has died down in terms of popularity, they are still around and are in 15-20 countries and roughly 500 markets at any given time.
Here are some of the biggest US markets as of January 2019:
Phoenix, AZ
Portland, OR
Los Angeles, CA
San Diego, CA
San Francisco, CA
New York, NY
Indianapolis, IN
Las Vegas, NV
Dallas, TX
Austin, TX
Houston, TX
Orlando, FL
Miami, FL
Make sure you check their website to find great deals for cheap massages near you.
Offers.com
Similar to Groupon and LivingSocial, another top deal site to find great deals on massages is Offers.com.
Just doing a quick search for "massages near me" in Phoenix, AZ I found a huge selection.
With offers.com, they find deals from all over the internet to give you a massive selection (including other deal sites like Groupon).
TravelZoo
The last major discount site to check out is TravelZoo. They have a ton of excellent deals for finding cheap massages and other travel related items or excursions.
I found great deals for places in and around Phoenix including ones that have awesome perks included.
Some of them included wine, pool passes, facials, and dining options.
If you find yourself traveling, this is a great resource to help you find massages and a ton of extra deals on hotels, dining, and much more.
2. Find a Massage School Near You
This might be a little unorthodox for some of you but it's a great way to get cheap massages.
To become a licensed massage therapist, they need formal training which means all new trainees have to learn hands on experience somewhere.
And that somewhere is the local massage school.
Similar to people getting licensed to cut hair, practice dentistry, and other skills, local schools are a win-win scenario for everyone.
Sure, you're risking that it's not someone who's extraordinary (yet) but can definitely still give you a great deal on a massage.
The massage treatments are done by students in training while being overseen by professionals to make sure everything is done correctly.
Depending on the location, people have reported that prices are as low as $20 for a full-body massage!
One thing to remember is that this isn't going to be plush, resort style living for this massage.
The treatment is more of a clinical setting so don't expect to have a fancy robe, spa or any other amenities that might come with traditional massage packages.
I've read that you'll most likely have oil, a massage table, and music.
You can find a school near you through the American Massage Therapy Association.
If you have a gender choice of male or female masseuse, make sure you request that in the form.
3. Ask Around Locally
It's likely that you have a self-employed masseuse right in your own city or town.
One way to find such a person is to ask on community Facebook pages near you.
Or to ask your local friends and family members. Friends of mine recently held a spa night at home.
They had a local masseuse from a nearby spa come and perform 10–15-minute massages on each guest.
The price was low at just $1 per minute plus a travel fee of $20.
4. Visit Chinatown
If you've ever visited China, you know how good and cheap the massages are compared to America.
While I couldn't find any hard stat or average price per massage, let's just say it pales in comparison to the price in America.
So if you live in a larger city or a metro area where there's a Chinese population concentration, I recommend checking out Chinatown to find great local establishments.
There are plenty of amazing places to find a cheap massage and possibly find treatments you wouldn't typically find at a large chain.
Plus, the prices are going to be way less than what you'd pay at other places!
5. Participate in Massage Research
Yes, you can actually participate in massage research to get a great deal on massages.
Massage Warehouse has Massage Warehouse Sanctuary to offer cheap and educational massages during massage specific conferences.
So, if there is a massage center near you, all attendees and exhibitors can donate $10 to get a massage.
Typically, the massage is area specific and much shorter than a traditional massage.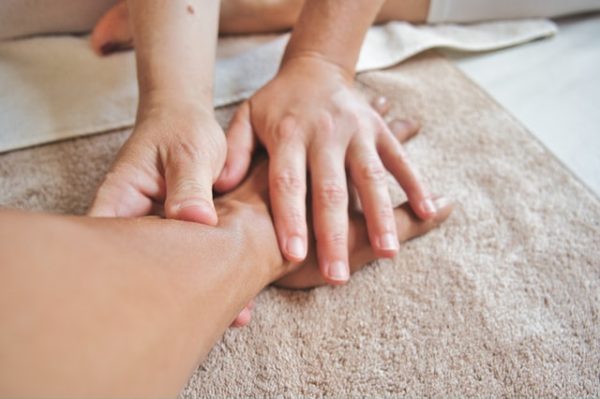 The 10-minute treatment is usually for the feet or face specifically. Some of the other treatments can include exfoliation, basic reflexology, hot rock massage, facial rejuvenation and even more.
Obviously this isn't the easiest way to get a cheap massage as you have to find a seminar but it's still a decent option.
Plus, your donation is going to a good cause as well.
All the money donated from attendees and exhibitors goes towards massage research and usually benefits the Massage Therapy Foundation or the Touch Research Institute.
6. Join a Membership
Depending on where you live in the country, there are great places that willl typically offer significant deals when you join their membership program.
Day spas tend to offer memberships as part of their business plan and get you set up with a recurring program.
One thing to note is that you understand the terms and billing cycle before you get started.
Massage Envy
Massage Envy is one of the biggest massage chains in the country and has 1175 locations in the United States.
They have a variety of massage treatments including trigger point therapy, deep tissue massage, Swedish massage and sports massage.
Elements Massage
Elements Massage is another massive massage chain that operates throughout the United States.
They have locations in over 30 states and a membership program to help you lower the cost of each massage.
Similar to Massage Envy, they offer all of the same massage options as well as prenatal, hot stone and other popular wellness treatments.
7. Simply Ask for A Discount
Sometimes in business, if you don't ask for a deal you'll never get the deal.
If you have a local massage business that isn't one of the major chains, ask about frequent discounts for regulars or if they offer reward programs.
While they might not have one yet, it's a good idea to ask and maybe let you into the program once they start one.
8. Check Out Your Local Health Fair
A lot of health fairs or community events are a great spot to find a quick, cheap massage as well.
Plus, you can usually enjoy live music, food, and other events before or after your massage.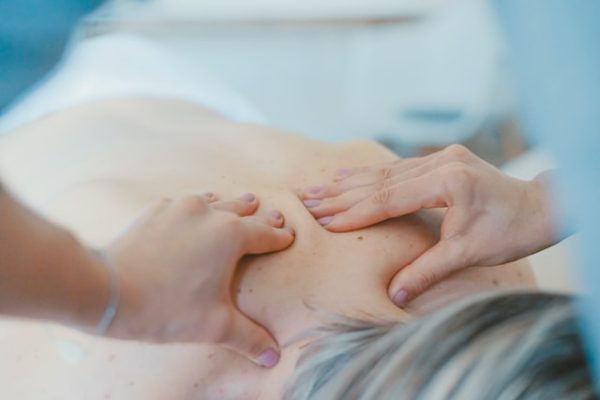 Often times at sporting events or tournaments you can find discounted massages or even 100% free samples if they're a sponsor of the event.
While you may have to pay to attend the event make sure to take advantage of cheap massage!
9. Make Use of a Layover at the Airport
Let's face it, layovers seem to take forever, especially when you're heading home.
But thanks to companies like XpresSpa, you can now get a quick massage in between flights. And usually they're very affordable.
For example, XpresSpa now offers a 15-minute head and back massage for only $35.
If you travel on a regular basis this is a great way to kill time and stay relaxed on the way to your next destination.
10. Take Advantage of National Spa Week
Usually two times per year (once in spring, once in fall) there is National Spa Week.
This is another great way to find a cheap massage, usually around $50, to get discounts on all different types of treatments.
Make sure to sign up online to get notifications directly in your email so you don't miss out on this awesome deal.
11. Check Out Soothe
Have you heard the wildly popular massage app known as Soothe? Soothe is the Uber of massages.
Soothe is an app that allows you find and book certified massage therapists that come directly to you, no matter your location.
Launched in 2013, Soothe set out on a mission to help anyone relax, anytime and anywhere.
How Soothe Works
Soothe offers four massage modalities, including deep tissue, Swedish, sports, and prenatal giving you much more options than others on this list.
Plus, Soothe allows clients to book a customized massage experience to meet your wellness and relaxation needs.
And all massage modalities can also be performed as a couples massage as well.
Lastly, Soothe massages are available seven days a week from 8 am to midnight giving you longer hours than any massage parlor.
Where Does Soothe Operate?
Soothe is available in over 60 major cities across the US, UK, Canada, and Australia.
Simply download the app to see if you're in a location that has a masseuse come straight to you.
How Much Does Soothe Cost?
Soothe offers 60, 90 and 120-minute massage packages. If you join their membership you'll receive a 20% discount and are billed every month.
There is no term length and you can cancel anytime. Or, you can opt for a one-time billing which is a great idea for your first massage.
While I wouldn't consider this a cheap massage, I'd say the convenience and professionalism are well worth the extra money spent.
Give it a shot if you're in a location that has Soothe in the future.
12. Use SpaFinder
The last one on this list is SpaFinder which is a site that is dedicated to helping you find great deals at awesome spots near you.
They've been in business for over 15 years and are committed to helping you take part in self-care and finding great deals year-round.
FAQs
If you're looking to get a cheap massage, here are some other questions to consider.
How much does a massage cost?
Fees at clinics, gyms and spas usually range from:
$30-$50 for 30-45 minutes
$50-$90 for 45-60 minutes
Packages might differ at hotels and include rates for couples massages
How much does deep tissue massage cost?
How much does a deep tissue massage cost? A deep tissue massage will cost between $90 and $110 per session.
Final Thoughts
As you can tell, there is no shortage of awesome options when it comes to finding a cheap massage near you.
Make sure that you sign up for some of these deal sites so you never miss out on a deal.
And if you're traveling, make sure to check out places in the airport, travel sites, and Spafinder.
What's your favorite place to find great massage deals? Let us know in the comments in case we missed one!