You've gone through your bank statements and spending habits. You've vowed to cut costs. But are you making one of these mistakes with your budget?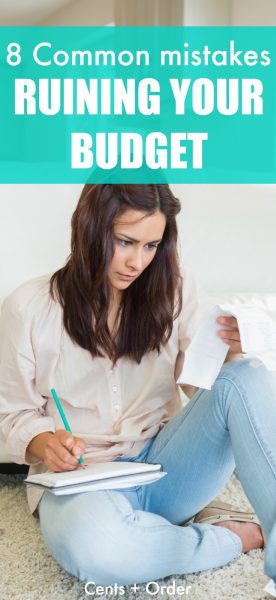 Trying to keep up with the Joneses
Tropical vacations. New car. Professional family photos.
These updates from our friends can trigger the desire to have what they have, to do what they are doing. Even if you feel secure in your finances, you can quickly feel defeated when you see what everyone else is doing.
Solution:
Know your financial goals and what's important to YOU. Everything else is just noise getting in the way of your goals.
RELATED: ARE YOUR FRIENDS MAKING YOU BROKE?
Setting unrealistic expectations
When creating your budget, you should figure out what you plan to spend in a given category. If you typically spend $400 a month on groceries, setting a $200 grocery budget is unrealistic and you're setting yourself up for failure. Could it be done? Maybe, but it will likely take some work to whittle the spending down to half of what it was before.
Solution:
Be realistic. If part of your plan is cutting back on certain expenses, consider cutting back gradually. If you spend less than you budgeted, then consider it a victory! You'll be starting with positive momentum and will be more likely to keep it up.
Forgetting unexpected expenses
There's plenty of expenses that pop up that we tend to forget about: birthdays (and parties), car registration, and veterinary expenses are just a few examples. Sometimes you may have bills that are quarterly or annually.
The problem is that there will always be something that can pop up and ruin your budget for the month.
Solution:
Include these expenses when budgeting. It will take time to remember all of the one-off items, but eventually you will be able to account for them.
RELATED: BUDGETING FOR UNEXPECTED EXPENSES
Making your budget too complicated
Your budget doesn't have to include a category for everything. The easier you make it to track your budget, the more likely you will actually do it.
Solution:
See if there are any categories that you can combine to simplify your budget.
For example, many people combine their grocery and household item (cleaning supplies, paper products) budget into one category. My grocery/household budget includes pet supplies as well.
If combining categories makes it seem to complicated for you, then certainly stick with the categories you feel are right. The most important part of budgeting is to make sure it works for you.
Forgetting the fun stuff
If your budget is too strict, you'll be less likely to stick with it.
Solution:
Make sure to include something fun that matters to you in your budget. If you like new clothes, then make sure your budget leaves a little room to make a new purchase. If you like to go out to eat, make sure you have a dining out amount in your budget.
Not working together on your budget
If you are in a relationship, you'll want to make sure you are on the same page for your budget to work. When partners have differing attitudes about spending and saving, it can derail your budget!
Solution:
Come to an agreement on how much you can each freely spend and what types of purchases you should discuss (together) first. You'll want to make sure you understand how your partner feels about debt and when incurring debt is okay.
RELATED: 4 TIPS TO STOP FIGHTING ABOUT MONEY
Forgetting to set goals
Do you have a plan for your money? Goals for what you want it to accomplish? When you don't tell your money where to go, you may find it disappearing right under your nose.
Solution:
Make sure your budget has specific goals for saving and getting out of debt. These goals should be included as line items in your budget so they don't get missed from month to month.
RELATED: SETTING FINANCIAL GOALS
Not tracking your progress
While it is important to create a budget, it is equally important to keep track of how you are doing on your budget. Evaluating your progress will let you know what you've done well for the month and what you can improve in the next month.
Solution:
Make a budget. Start by looking at last month's spending to get a rough idea of what you spend. As the month goes on, track what you've spent on each category/item.
If you don't meet your budget the first time around, don't fret. It will take some tweaks over time to get your budget close to your actual spending.
Related: 6 BUDGETING METHODS EXPLAINED-CHOOSING THE RIGHT SYSTEM FOR YOU