Are you one of the 8 out of 10 people expecting to get a tax refund this year? Did you know that the average tax refund is a healthy $2,800? Use your tax refund money wisely and get your finances on track!
Note: This post includes affiliate links
Use your tax refund to better your financial situation
Are you sick and tired of living paycheck to paycheck? Do you feel like no matter what you do, you can never get ahead of the curve?
You're not alone.
A recent Bankrate survey indicated 62% of Americans could not cover an unexpected expense such as a trip to the emergency room or car repair.
This means that the majority of us don't have $500 set aside, let alone a retirement fund or a plan to ever payoff our debt.
To make matters worse, those unexpected expenses always seem to pop up at the worst time, like when rent is due. Then the expense ends up added to your credit cards or is borrowed from friends or family.
How will you spend your tax refund?
Commit to better your financial situation and make a plan for how your tax refund will be spent. A financial windfall such as a tax refund should not be blank check to spend wherever you want.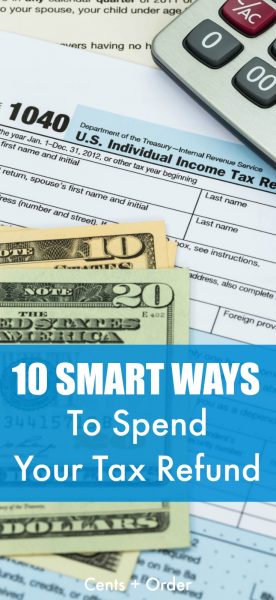 And if you don't make a plan for what to do with that refund, once it hits your bank account, you may find it gone before you know it!

1. Get caught up on monthly bills
If you are behind on any of your monthly bills, use the extra cash for rent, utilities, or past due loan payments. Be sure to call the biller to see if they are willing to waive a late fee since you will be getting caught up. If they agree, you'll have an extra $20-30 you can use elsewhere!
2. Use your tax refund to set up your emergency fund
A bare bones emergency fund should be at least $1,000 set aside for emergencies. This is just the starting point of your emergency fund, eventually you would want 3-6 months of expenses. Until your debt is paid off, the $1,000 is enough to ride you through any tough spots so you can focus on other goals.
3. Pay off some debt with the extra money
Do you have a smaller balance that you can payoff entirely with your tax refund? Or consider paying down a high interest rate credit card to save money on interest payments. Debt payments may not be a fun way to spend your tax refund, but the freedom of having less debt will be worth it.
4. Take care of an expense you've been putting off
If you've had a lingering home repair, dental work, or car work that you've been putting off, take advantage of the extra cash in your pocket and take care of the expense. You'll have peace of mind when you aren't worrying about your car breaking down at any possible moment.
5. Contribute to your retirement fund
If you don't have a retirement plan through your employer or you haven't been contributing to it, consider an Individual Retirement Account (IRA) contribution.
6. Start a replacement fund
If you have an aging item that will eventually need to be replaced, start saving money for when that time comes. Some examples include: cars, appliances, and major home systems such as the water heater, furnace, or air conditioner. These items can be costly to replace when they finally give out.
7. Treat yourself
Many times if you get a big windfall such as a tax refund, you start dreaming of everything you can buy. This thinking is exactly what will keep you in your current cycle. Instead, spend the money wisely, but save a portion for yourself.
Reward yourself when you make smart financial decisions. It will help you foster a positive relationship with money.
Keep it to a reasonable amount and make sure you've allocated the rest of the funds wisely before treating yourself.
8. Contribute to your child's college education
College costs continue to rise each year and I'm scared to think about what college costs will be when my kids are ready (and I've got three!) Set aside a small portion in a savings account, investment account, or a 529 education plan.
9. Give back
Give a portion of your refund to your church, favorite charity, or someone in need. If you've ever used the services of such an organization to get you through a tough time, getting a tax refund is a great time to consider paying it forward.
10. Stock up
Use some of your extra cash to stock up on household items, non-perishable foods, and pet food. If you have a tough month with your budget, you will have a stockpile to fall back on.
Not sure what to spend your refund on?

If you're not sure how to spend your tax refund, consider these to be the highest priorities:
1. Get caught up on bills
2. Establish a $1,000 emergency fund
3. Make a payment towards your debts
After these priorities are met, you can consider the other smart uses of your tax refund.