Supplementing Your Budget With Cash Back Rewards
My last birthday present (to myself) didn't cost me anything. Neither did any of the recent birthday gifts I've had to buy. As a single mom with three kids, I have to make every dollar stretch. But that doesn't mean I do without.
I love taking advantage of various tools to save money on the things I HAVE to buy so I can spend money on the things I WANT to buy.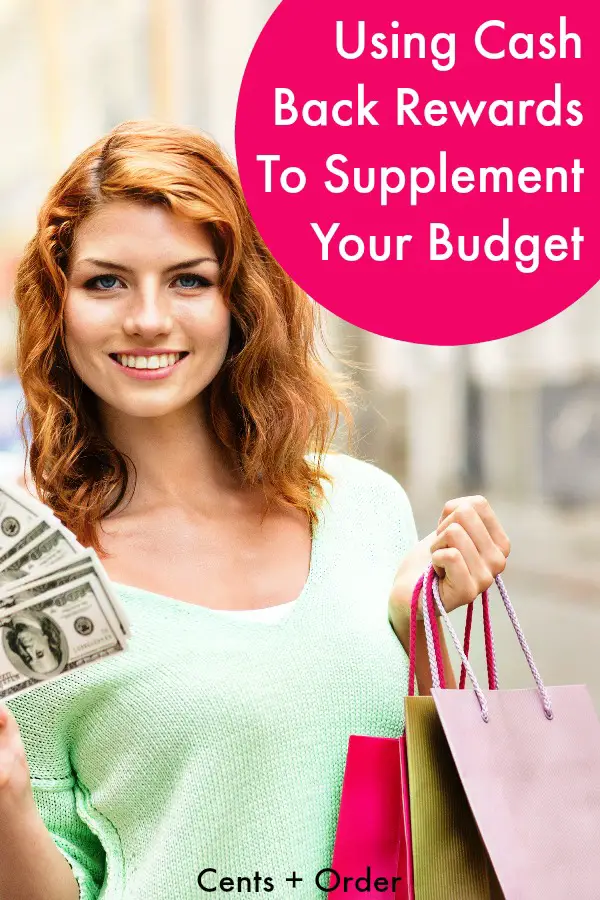 One of the easiest ways to save money is to use cash back programs. I know-you might be thinking that cash back programs are a waste of time. But the truth is that if you actively use cash back programs, you'll see how fast the extra money adds up.
For example, I've been using a cash back credit card for everyday expenses like daycare (childcare is not cheap) and groceries. In the past year, I've earned nearly $400 on my cash back credit card.
The best part is that this was earned buying items I was going to buy anyway! And don't worry–I pay this card off in full every month–I only use it to earn rewards.
Earn Cash Back With Giving Assistant
Giving Assistant invited me to try their cash back program and I was excited to add another money saving tool to my toolbox!
Giving Assistant offers a cash back program that includes 1,600+ stores and an average of 5% cash back after each online purchase. With that many stores, you'll have no trouble finding your favorites.
Signing Up For Giving Assistant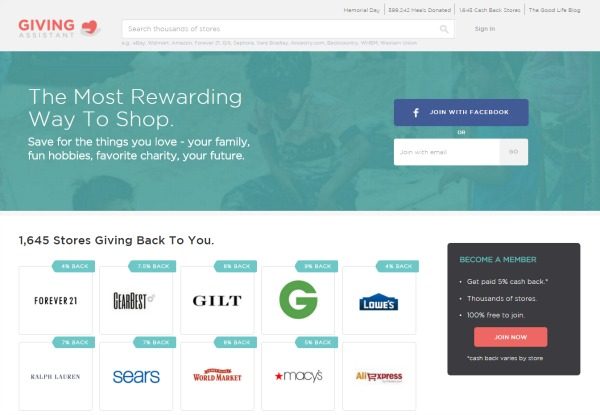 You can easily sign up for Giving Assistant using an email address or Facebook login. Once you have logged in, you can shop to your heart's content!
Here's some popular stores:
Groupon: https://givingassistant.org/coupon-codes/groupon.com
Target: https://givingassistant.org/coupon-codes/target.com
Walmart: https://givingassistant.org/coupon-codes/walmart.com
How Giving Assistant Works
Once you find the store you are looking for, they have a page set up with the cash back program details, coupon codes, and relevant information about shopping at your chosen store. It's nice to have that information all compiled in one place.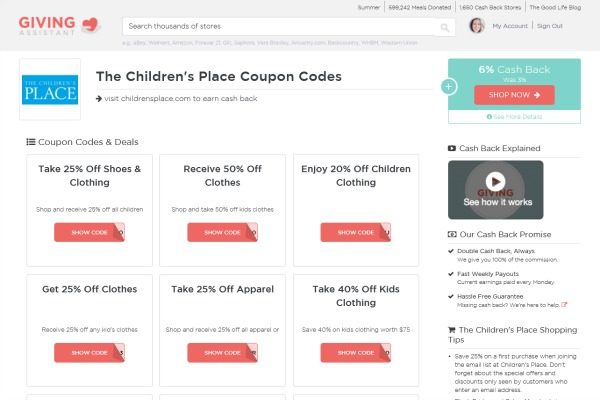 When you click the shop now button, a little warning box will come up. This box will let you know all the requirements to ensure your cash back is actually earned (like turn off your pop up blockers).
I needed to buy some summer clothes for the kids (please tell them to stop growing) and easily found that The Children's Place participated in the cash back program.
I clicked the link from the Giving Assistant page and completed my online purchase. The cash back doesn't appear right away-I got an email about 2 days later that I had earned my cash back.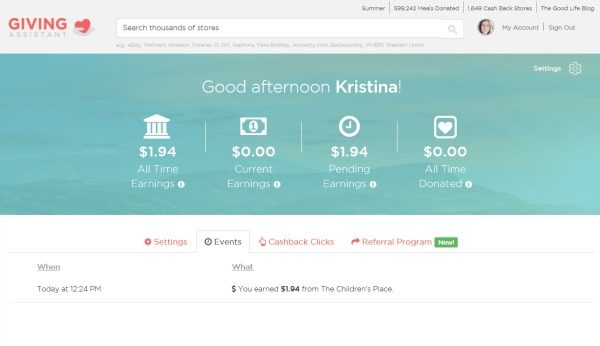 Wondering how they can give you cash back?
Retailers pay websites commissions for sending traffic (purchasers) to their online stores. Giving Assistant turns these commissions into cash back for you!
Why Giving Assistant is better than other cash back sites
They give you the full amount of the commission (not 50% like many other cash back sites).
You can donate a portion (or all) of your cash back to charity (Choose your charity under the setting page).
You can be paid via Paypal (weekly) or by check (quarterly) when your balance is over $5.00. Other programs have higher minimum payouts.
You can earn $5 for each friend you refer (once they earn cash back).
How to use cash back programs to your advantage
Earning cash back is a great way to add some wiggle room to your budget. I'm not saying to go out on a spending spree…but why not earn cash back for the items you are already buying?
Here are some ways you can make the most of your cash back:
Use your cash back to make an extra payment on your debt.
Buy gift cards to your favorite stores. I rarely spend money on myself, but I do use my cash back to treat myself to a new outfit, a book, or download some music. It's nice to be able to buy these things without it affecting my budget!
Save it for birthday gifts. Birthdays can tend to throw your budget off if you forgot to plan for them.
Add it to your savings account or emergency fund.
Use the cash back for your vacation fund.
Sign up here for Giving Assistant and start earning your cash back today!
I love using cash back programs to fund the fun little extras in life that I can't squeeze out of my regular budget. How would you use the extra cash?