Do you know how to cash a personal check without a bank account? Cashing a check has never been easier thanks to smartphones and banking apps.
All you do is take a few pictures, upload, and the money is in your account within 24 hours or sooner. But that's assuming you have an active bank account.
Unfortunately, that's not always the case. According to Fortune, 20% of people in the US are "unbanked."
This means they use services like check cashing, payday loans, pawnshops, and money transfers instead of using their bank account.
The report found that high cost of maintaining a bank account and an overall lack of trust in banks, has discouraged many lower-income households from opening a bank account.
If you fall into this category, it can make cashing a check a much more difficult process than just taking a few pictures.
Luckily there are plenty of free or very cheap ways to cash a personal check without a bank account.
Best Ways To Cash a Personal Check
Some of the options include getting cash while others will result in prepaid debit cards and gift cards to the specific location. Make sure to thoroughly read through to find the best and cheapest option.
1. Walmart
Yes, the giant retailer WalMart can help you cash a check without a bank account. And at a great price! The charge is only $4 to cash a check if the total amount is under $1,000.
If your check is over $1,000 the fee is doubled to $8. But the monetary limit for each check at Walmart is $5,000.
The price does increase during tax season to $7,500 as individuals have larger checks due to tax refunds.
Here are the types of checks that WalMart will cash for you:
401K and other similar retirement distribution checks
Plus, they give you two options on how you would like to cash your check. You can get cash or you can get a gift card for Wal-Mart as well.
2. Your Local Credit Union
A credit union makes it easy to cash a check and sign up for an account if you meet a few general requirements.
Unlike big banks, credit unions usually provide more friendly atmospheres and have lower fees on common banking transactions. Some credit unions only require a balance of $1 to get started.
If you don't have a bank account and want one, make sure to find a local credit union as it can be a great option to cash your check for free.
I personally have banked at credit unions for years and find the service and the pricing great.
3. Regions Bank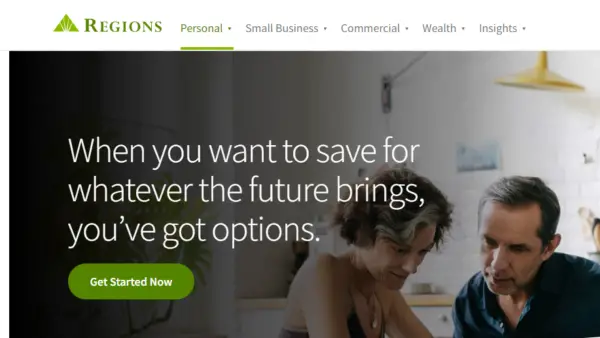 While the post is all about not using a bank account you can also use Regions bank to cash your check even if you don't have an account with them.
The fees are between 1-5% and depend on two things. Those two factors are how much the total amount of the check is and the specific type of check that you are cashing.
Regions will cash government checks of just about any kind, but they'll cash other types of checks as well. Here are the types of check that they will cash for you.
Regions Bank has locations in 8 U.S. states including Florida, Georgia, Tennessee, Arkansas, Alabama, South Carolina, Texas, Louisiana
4. The Issuing Bank or Credit Union
This is one of the best, easiest, and cheapest options on this list if your check amount is under $50.
Otherwise, make sure you review this list to find the best deal possible so you can keep more of your cash with fewer fees.
If you want to cash a check, go to the bank where the check is from even if you're not a customer. Sometimes they will cash it for free while others banks it might cost money. 
The only thing required is a signature on the check and a valid form of government issued ID to get your cash. Make sure you check the rates before going in. There is usually a tiered rate system depending on the total check amount.
$7 per check regardless of balance
10% of the overall check balance
The last thing you want to check is if they will give you cash or a prepaid debit card. If it's a prepaid debit card make sure you understand the expiration and terms as this can be an easy way to lose money.
All banks operate differently when it comes to payout of checks issued on the bank, so it's important to ask those questions.
5. Ace Cash Express
Ace Cash Express is a local store that can help you cash a check without a bank account. They will cash almost any type of check as long as you have the proper ID to show proof of identification.
Some of the most common types of checks they cash include:
They will also cash personal checks, business checks and payroll checks. As with other companies listed here, you'll need a valid ID in order to cash a check.
Find a location near you to learn more about the fees and total check amounts.
6. Money Mart
Money Mart is another cash checking location that has locations in California, Alaska, Hawaii, Arizona and Louisiana.
They cash a ton of different types of checks, but their fees aren't listed online. If there is a location near you make sure to call in advance to learn more about their prices.
Here are the types of checks they cash according to their website:
Money orders
Personal checks
Small business checks
Payroll checks
Insurance checks
Government checks
They may cash other types of checks as well. See a location near you for more information.
7. Travel Centers
Depending on the type of check you are trying to cash, travel centers can be another option if you're on the road.
Be sure to check out Pilot Flying J or TravelCenters of America to learn more about the rates and specifics of the cash checking services.
8. Check Into Cash
Check Into Cash is a great service to cash your checks with over $1,000 locations throughout the United States. The main types of checks they cash include:
9. PLS Check Cashing
PLS Check Cashing is a check cashing store that is located in various states across the United States. Some of them include Ohio, New York, Arizona, California, Texas, and others.
Here are the main types of checks you can cash:
Plus they have a great rate structure unlike some of the other places on the list. They charge 1% plus $1 for recurring government and payroll checks.
All other checks can vary in price and fees so make sure to contact them or visit a branch.
10. The Check Cashing Store
This option is only good if you live or travel to Florida. They accept payroll checks, money orders, government-issued checks, and even personal checks once verified.
Learn more about The Check Cashing store.
11. Advance Financial
Advance Financial is a branch located only in Tennessee but has over 80 locations throughout the state. Tennessee regulates the fees and begin at 1% but go up all the way to 10%.
12. Friendly Check Cashing
Like the Check Cashing Store, Friendly Checking is only in one state – North Carolina. But if you are in the area they cash all kinds of different checks including:
But, there is one major downside to using The Check Cashing Store, the 10% fee that comes along with it. This can be huge depending on the amount of the check!
Learn more about Friendly Check Cashing.
13. United Check Cashing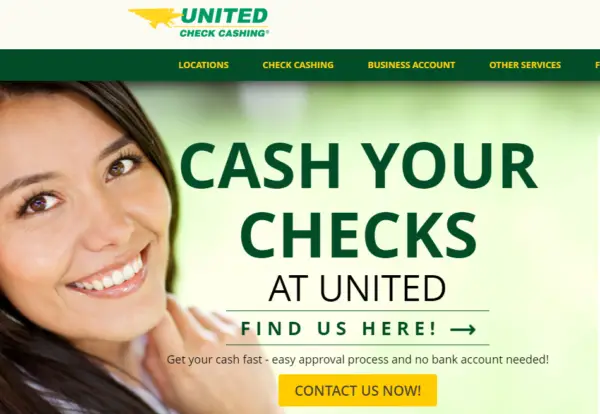 United Check Cashing is primarily located on the East Coast but also have a few other states like Texas, Michigan, and Ohio. The fees differ by location as each state has specific regulations so make sure to check online or call ahead.
They accept the following types of checks:
Business & commercial checks
Government-issued benefits checks
Grocery Stores That Will Cash Checks
Most grocery stores will offer check cashing services that will cash government issued checks and payroll checks from local businesses.
The fees will vary by store and tend to only happen at larger chains like Kroger, Albertsons, Wal-Mart, etc.
14. 7 Eleven
While technically not a grocery store, it does have "transact by 7 Eleven" to help you cash your checks. To get started download the mobile app and take a picture of your check.
Once uploaded, most checks will clear within 48 hours and your cash will be deposited onto a 7 eleven reloadable prepaid card. This can then be used for in-store purchases for your Slurpees or gas.
15. Kroger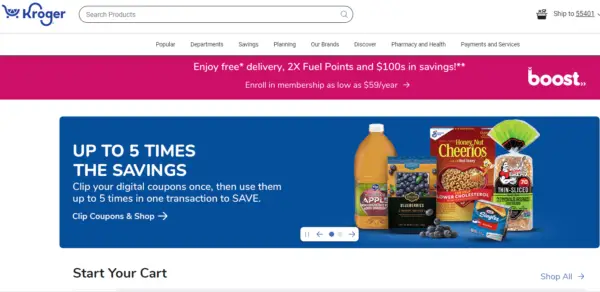 Kroger is one of the biggest grocery chains in the country and includes stores like Fred Meyer, Ralphs, Freys, and others. They will cash checks that are electronically signed such as payroll or government checks.
But, like Wal-Mart, the limit is $5,000 per check.
Please note, if you have a handwritten check they will not accept it at Kroger stores!
16. Albertsons
Albertsons is a popular chain in select states throughout the United States and can cash your checks as long as it's under $1,000.
They will cash electronically signed checks such as government or payroll check but will not do accept personal checks.
17. Stop and Shop
Stop and Shop stores are mainly in the Northeast part of the United States but slightly limited with check cashing options. Most locations only cash payroll or government checks.
Make sure you contact them before going out of your way!
18. Food City
Food City locations are a great place to save big on groceries and cash your checks. They usually only cash electronically signed checks so make sure you call ahead before trying any others.
One benefit of Food City is that they have approved rebate checks that they will also cash. For any type of check or rebate check the total amount is $1,000.
19. HyVee
HyVee grocery stores also have check cashing services but don't give too much information online about the type and total amount.
The stores are located mostly in the Midwest with locations in Kansas, Missouri, Nebraska, Wisconsin, and others.
20. Publix
Publix is a grocery store chain that is primarily located in the South and East Coast. This grocery store chain also offers different check cashing services.
The checks they will cash include government, payroll, and personal checks. They do not accept money orders but will sell them.
21. WinCo
Winco grocery stores are slightly limited in the country but a great place to buy cheap groceries and cash your checks.
They primarily cash payroll checks but each location has different services. Make sure to check with your location before heading in.
Also, if you are shopping at Winco it's important to remember that you can only use cash or debit cards as credit cards are not accepted.
22. Winn Dixie
Winn Dixie is another grocery store chain that will cash your checks although the locations are limited to the south. But their check cashing options are very limited. You can only cash payroll checks under $500.
Final Thoughts
While there are plenty of ways to cash a personal check without a bank account it can be a bit more work than signing up at your bank or credit union.
If you plan on cashing more checks like this in the future, I'd recommend a local credit union you are eligible at for low-cost checking options and friendly service.
Otherwise, make sure you call ahead to some of the specific locations to always find the best rates. Don't wait until you are there and get taken advantage of with high fees.
Also, make sure that your check doesn't go over the store minimum as certain locations only accept $500 or $1,000 amounts.
Lastly, remember that you always need to show government ID like a license, identification card or passport to cash your check.