Have you ever wondered where you could buy hay bales near you? Hay isn't just for horses anymore.
If you've researched home decor lately, you've probably seen that straw and hay bales are used for a variety of home decor purposes.
In addition, people use hay bales for outdoor seating and other purposes too.
In fact, an outdoor wedding I went to recently used hay bales for seating during the ceremony.
The bride and groom had rows of hay bales set up just like church pews. They covered the bales with a thick white linen for comfort and decor purposes.
Guests sat in the rows and viewed the ceremony, set in front of a gorgeous private lake.
Where to Buy Hay Bales Near You
Whether you have farm animals or just want hay bales for decor purposes, you have several purchasing options.
There are a few different places you can get hay bales (or straw bales) for whatever your needs.
You might be surprised at the large number of places you can buy hay bales.
Know that, depending on where you buy, prices will vary. For example, stores often charge more per bale than your local farmer.
In addition, the area of the country you live in will affect the price you pay too.
Midwestern states that typically produce hay will charge less for hay bales than states that don't.
Here is a list of places you might be able to buy hay bales near you.
Farm Supply Stores
Most all states have farm supply stores. Farm supply stores carry a wide variety of farm equipment.
Along with hay bales, you can find farm animal supplies, farm equipment repair, farm tools and more.
Here is a list of farm supply stores that have multiple locations in various regions of the United States.
1. Tractor Supply Company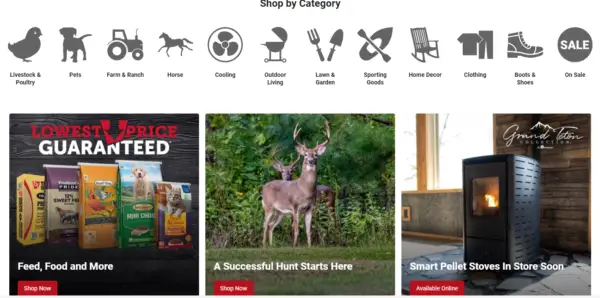 Tractor Supply Company has over 1700 locations in 49 U.S. states. Most locations carry both straw bales and hay bales.
We have Tractor Supply stores here in Minnesota, and honestly it's one of my two go-to farm supply stores.
They've got a great selection of necessity farm supplies and fun stuff like home decor.
The prices at Tractor Supply are pretty reasonable.
In fact, some products at our local Tractor Supply store, such as automotive products, are priced lower than at stores they're typically sold at.
if you've got a Tractor Supply near you, check out their prices on hay bales.
2. Rural King
Rural King has over 100 store locations in states such as Alabama, Florida, Indiana, Kentucky and nine other states.
Most locations stock both straw bales and hay bales. They're a full-fledged farm store that carries clothing, automotive and farm equipment supplies and more.
3. Fleet Farm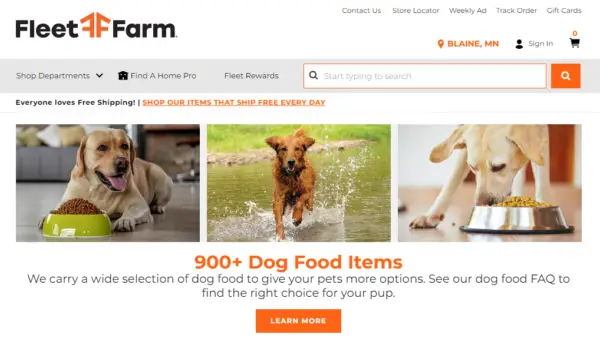 Fleet Farm stores originated in Minnesota but now have stores throughout Minnesota, Wisconsin, North Dakota and Iowa.
There are over 40 locations in these states and others.
Hay bale sizes, prices, and availability vary by location and season. Fleet Farm stores also have a large selection of farm animal equipment and tools.
In addition, they've got automotive supplies, a tire changing shop, tools, fishing and hunting supplies and more.
4. Farm Supply Company
Farm Supply Company has locations on California's Central Coast. They tend to carry mostly hay bales for feed purposes.
Check with individual stores for straw bales.
5. Agri-Supply
Agri-Supply has store locations along the Southern East Coast of the U.S. You can find stores in North Carolina, Virginia, South Carolina and Georgia.
They also have a few locations in the Midwest, specifically Iowa, Wisconsin and Minnesota.
Most Agri-Supply stores have both straw and hay bales. Check with individual locations for sizes and supplies.
6. Atwoods Ranch and Home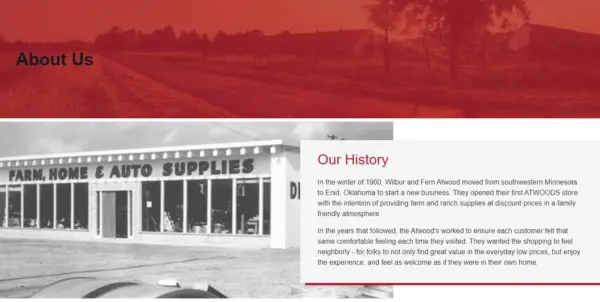 Atwoods Ranch and Home has over 60 locations in five states, including:
Arkansas
Kansas
Missouri
Oklahoma
Texas
The majority of store locations are located in Oklahoma. Check with individual locations for the types and prices of hay bales and straw bales they have available.
7. Southern States Farm Store
Southern States Farm Store has dozens of locations in Virginia. Locations typically carry both hay and straw bales.
Some locations offer delivery as well. Check with a store near you for details.
8. Orscheln Farm and Home
Orscheln Farm and Home has 175 stores located in Illinois, Indiana, Iowa, Arkansas, Kansas, Kentucky, Missouri, Oklahoma, Texas and Arkansas.
Their supply of hay bales and straw bales varies by location. Check with a store near you for details.
9. Stanislaus Farm Supply
Stanislaus Farm Supply has locations in California and Nevada. They carry a variety of farming supplies, including hay bales and straw bales.
Check with the location nearest you for specific details and prices.
Your Local Landscaping Nursery
Landscaping and nursery stores can be a great place to find straw and hay bales as well.
As with all stores, selection may vary. Here are some stores that typically do carry hay bales.
10. Star Nursery
Star Nursery has locations in Nevada, Arizona and Utah. The types and sizes of hay bales and straw bales they carry depend on location and season.
Check with your local store for details.
11. Meadows Farms Nurseries
Meadows Farms Nurseries has locations in Virginia, West Virginia and Maryland. Selection and prices vary by location.
Call your local store to get details.
12. Earl May Nursery and Garden Center
Earl May Nursery and Garden Center has locations in Kansas, Iowa, Nebraska and Missouri.
Each store location carries a variety of types and sizes of hay bales and straw bales.
Check your local Earl May store for details, pricing and availability.
Last but not least, you might be able to find hay or straw bales at big box retail stores. Here are some ideas for where to look.
Home Improvement Stores
Some home improvement stores carry hay bales and straw bales as well. Here are some we found that do carry them at times.
13. Lowe's Home Improvement
Lowe's Home Improvement stores has over 2,300 locations in the United States, Canada and Mexico. Most Lowe's stores do carry straw bales.
Availability and pricing varies. Some stores may only carry these products seasonally.
14. Home Depot
Home Depot has over 2,000 store locations in the U.S., Canada, Mexico and Puerto Rico.
They typically carry straw bales on a seasonal basis only in the fall. Check with your local Home Depot for specific details.
You might also find straw and hay bales at your local home improvement stores.
Retail Stores
Note that retail stores that carry hay bales generally only carry straw bales and hay bales during the late summer and fall months.
If they carry them, you can usually find them in the outdoor/landscaping area.
Here are some stores you can check with to see if they carry hay bales.
15. Walmart
Some Walmart locations might carry hay or straw bales. You won't find large quantities here; just enough for home decor purposes.
Sizes, types and prices may vary. Check with your local Walmart stores to get details.
16. Target
You might find that your local Target store carries straw bales for home decor.
In my experience, the Target stores don't carry them as much as Walmart stores do. However, your city or town may find different results.
As with Walmart, Target's supply of straw bales will likely only be seasonal for fall decor purposes. Check with your local store for details.
Now that we've finished talking about retail stores that might carry hay bales and straw bales, here are some other options for finding them.
Other Places You Might Buy Hay Bales Near You
There are two places that are non-retail that you may be able to find straw bales or hay bales at.
I've used both of these avenues to get hay for our horses.
17. Craigslist
Sites such as Craigslist and similar sites can be a great place to find hay bales. Just check under the For Sale area in the Farm & Garden subcategory.
I would recommend doing some research as you look on Craigslist. Prices tend to vary quite widely.
In addition, some farmers will provide delivery as well.
18. Local Farmers
If you're not too far from local farmers, you could stop by and get hay bales from them.
In fact, I know if hay farmers within a half hour of my home near Minneapolis.
Then again, the Midwestern states are ripe with farm fields. You may not be able to find a hay farmer nearby if you live in a state such as Florida.
However, if you do live in or near a farming area, check with local farmers about buying hay bales.
What's the Difference Between Hay Bales and Straw Bales?
You've heard me mention both straw and hay bales here. You might be wondering what the difference is between the two.
After all, they look a lot alike. However, there are some important differences you should know about.
Hay
Hay is a crop that is harvested primarily for animal feed. It comes in various forms such as alfalfa, timothy, etc.
Hay is harvested from the dried plant in the field. The plant is cut, left to dry and baled.
Because you're harvesting the entire plant, hay is nutritional as feed for horses, cows, etc. Hay is greenish in color.
Straw
Straw is baled from the empty stalk of the planted crops such as wheat and barley. Seeds etc. have been removed.
Straw is a yellow color that, when you learn it, you'll easily be able to distinguish from hay.
Both straw and hay can be used for home decor, seating and other purposes.
However, straw is typically used when needed for animal bedding.
What are Some Uses for Hay Bales?
As I mentioned earlier, there are varying uses for hay bales. Here are some of the things you might want to use hay bales for.
Buy Hay Bales Near You for Home Decor
Hay bales are great for home decor use. If you live in a rural setting or have a farm theme at your house, you can use them as decor all year around.
Or, you can use them as decor during fall harvest season through Thanksgiving.
Stack the bales at the corners of your home or set them at the front entrance.
Add pumpkins, scarecrows or other fall decor to complete your theme.
To Use as Event Seating
Whether it's an outdoor wedding like my friend had or a fall bonfire, hay bales make for great seating.
They're easy to set up and fairly comfortable too.
Set them in a circle around a fire pit, scattered randomly for parties or in rows for more formal events.
For Use as Barriers
Some people use hay bales as barriers to keep people and animals out of certain areas.
For instance, when you've planted a garden and you want to keep little kids or dogs away.
Should I Use Hay as Feed or Bedding for Animals?
Only straw bales should be used for bedding for animals. If you've got rabbits, goats, horses, cows or other animals, you can use straw for these purposes.
Hay can get wet and moldy and in turn poses a risk of spontaneous combustion. Although this is rare, it does happen. For that reason, you should stay away from using hay as a bedding coverage.
Hay, however, makes a great feed for many animals. Horses, cows, rabbits and more love to eat hay year round.
For Gardening
Straw bales (not hay bales) make great covering for gardens. You can also use straw bales as a planter for garden plants.
Note that hay is not suitable for gardening, as it contains seeds that can sprout and grow. Look for seed-free straw bales for gardening purposes.
What Sizes do Hay Bales Come in?
Hay bales come in three main sizes: round bales, large square bales and small square bales.
Round bales are quite large; they're the bales you typically find in farm fields or landscape pictures.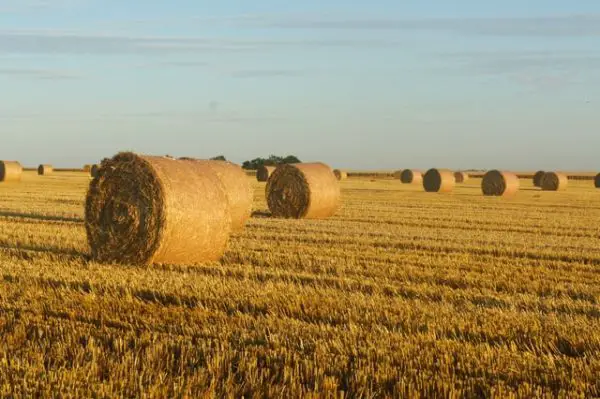 They generally weigh 1200 to 1500 pounds and are about 6 feet in height. Large square bales are roughly 3 feet by 3 feet by 8 feet.
They weigh in the 1200-to-1500-pound range as well.
You'll need equipment such as a Bobcat or garden tractor to move round bales and large square bales.
Small square bales of hay and straw typically weigh between 50 pounds and 60 pounds. They're two to three feet long and roughly 1.5 feet wide.
Clearly, their smaller size and weight make them easier to transport and to use for various purposes.
Farmers who let you buy hay bales near you will harvest them in a variety of sizes.
Some might only do the small squares, while some might only do the round bales.
How Much Do Hay Bales Cost?
Hay bales aren't going to be something you can get for a deal at the dollar store. They can get expensive, depending on a number of factors.
Hay bales vary widely in cost, depending on where you live and where you buy them.
I've seen them in my area for as low as $3 a bale (for the small square bales) and as high as $9 a bale.
Round bales and large square bales cost more. Expect to pay at least $60 per bale with the larger bales.
If you live in an area that doesn't produce hay, you can expect to pay more.
Summary
Hay bales can be used for a variety of purposes. Whether it's for home decor, seating for an event or utility purposes, they get the job done.